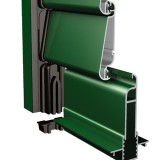 Teknalsystem manufactures and markets mechanisms for movable and/or fixed slats shutters, with different slats shapes which all match with aesthetic and architectural styles of every city contests

General Technical Catalogue is containing technical papers of mechanisms, as well as available surface finishing , correlated accessories and assembly instructions of movable and/or fixed slats shutters.

General Technical Catalogue can be downloaded free of charge after registration


UNI EN ISO 9001 QUALITY CERTIFICATE Since 1997 Teknalsystem carries out all its activities in the respect of the severe quality requirements of international standards ISO 9001. The company's quality management system, certified and periodically verified by the authoritative Lloyd's Register Quality Assurance, is actually related to the following activities : "Design, manufacture and trade of technologies and systems for windows and doors, of mechanisms for shutters and of accessories for windows and doors , painting and decoration of aluminium profiles". The Quality Management System Cer...


NEWSLETTER