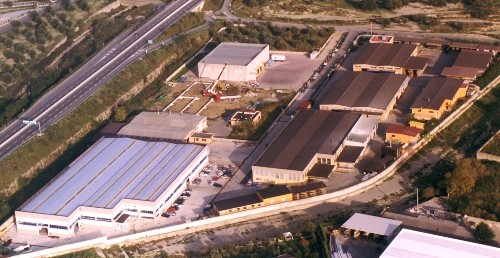 Teknalsystem from the middle of 80's , designs , manufactures and trades technologies and
systems for aluminium shutters, windows and doors, mechanisms for shutters and accessories for shutters, windows and doors. The Company has further introduced plants for painting and decorating aluminium profiles and sheets , as well as products which take advantage by certified manufacturing processes.
For over 25 years Teknalsystem is a leader Company in the foreign and national market, thanks to the design and manufacturing of an innovative product relating the sun-protection systems : the mechanisms which regulates movable shutters slats' opening degree . Thanks to the huge investments in the Research and Development Department and the employment of skill technicians and researchers , the original project has been further implemented by means of products which always guarantee original technical solutions and respect the market and customers requirements, as well as to the existing law rules.
THE PRODUCTS
The mechanism for movable slats shutters , composed by aluminium profiles and different items moulded in nylon reinforced by glass fibers, grant new and original characteristics to the traditional shutter wooden manufactured and/or with fixed slats. In details, the shutter mechanisms manufactured by Teknalsystem are characterized by a continuously technical updating research which increases speed and makes easier the assembly of all the components and accessories and guarantees a very high darkening action as well as an effective protection from the dust and the atmospheric agents.
THE URBAN CONTEXT
Technical implementation and guarantee of the urban context characteristics are the two principles which lead the activity of Teknalsystem and allow to always carry out new and original technical solutions matching the market demands with the respect of tradition and of different urban and social contests. Therefore, Teknalsystem manufactures and trades many different types of aluminium shutters with movable and/or fixed slats with shapes and colours compatible with the most different architectonic styles . Thanks to a certified painting process as well as a last generation decorating plant, Teknalsystem can supply a wide range of colours which can be efficaciously utilized in the restyling activities of the buildings of historical centres.
SURFACE FINISHING
Teknalsystem directly executes the painting activity in its plants which are designed with the last generation technologies and guarantee a full accordance with the acceptability characteristics required by the International contract requirements, including Qualicoat.. All the phases of painting process are carried out fully complying with the severe control rules of standard UNI 9983.
The anodized aluminium profiles are treated following the recommendations of existing law rules and subject to quality tests of oxide and its fixing as per the foreseen procedures by Qualanod quality standards.